So many rules, so little time.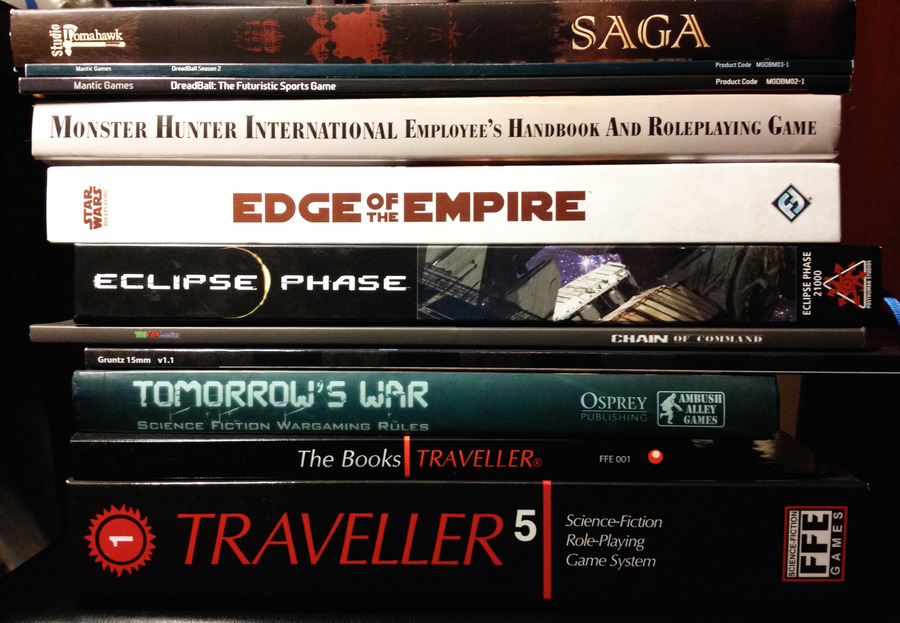 From top to bottom:
SAGA – The base rules plus all the expansions in the folder that came with expansion #4. I play this a lot recently.  I have a six point Anglo-Dane warband.
Dreadball Season 2
Dreadball  – Base rules.  I love Dreadball.  I play the base game only so far.  I have a season 2 team, unpainted.  It will get painted soon.  Dreadball is a ton of fun.
Monster Hunter International – The RPG based on the novels.  I GM a campaign.  Lots of fun.  Humans with guns fight monsters – werewolves, zombies, etc…
Star Wars Edge Of Empire –  RPG. I do not currently play.  It seems like a fun game.  Unique dice mechanic.
Eclipse Phase –  RPG. I am a player in a campaign.  Great game, and the most high quality rulebook here.  Very unique sci-fi setting. The printed book is well worth it's price, however, the rules are also available for free.  Creative Commons rules!
Chain Of Command – Just released (Fall 2013) WWII platoon level rules from Too Fat Lardies.  I've not played them yet, but they seem really nice.
Gruntz – 15mm Sci-Fi rules.  A great introductory set of rules, and you can add complexity later.  I've played them a few times.  Fun.
Tomorrows War – Another 15mm Sci-Fi ruleset.  Well reviewed, but overly complex and, frankly, the book is hard to read.  Black text on a busy background.
Traveller – I have so many great memories of playing Traveller as a kid in the '80s.  Sci-Fi RPG.
Traveller 5  – Not the "final" Traveller I'd hoped for.  Overly complex.
So, that's my physical rules collection.  In digital, I've got a bunch more, but the only digital rules that are not also here in physical form that I play / want to play are:
Quadrant 13 – Company level 15mm Sci-Fi rules.  Seems like a great game.  I'd love to play some day.
Full Thrust: Cross Dimensions – Super fun space fleet combat game.  I've got two full fleets of minis painted up for this game.  Quick, deadly, tactical space combat.  Free rules, too.