Last week I tried my hand at making bases with Green Stuff.  I was painting GZG's 15mm Ravagers Pack A and I really wanted to make nice bases.  I had some Green Stuff freshly delivered from Amazon, and I decided to give it a try.
I hadn't really planned ahead at all, so I was improvising.  All in all, I think it came out pretty well.

Here's all 8 figures in Ravagers Pack A, 4 models, 2 of each.  I plan to use these for role playing, so I wanted to make them different – like the two women were different women, despite the same pose.

Here's the four figures I concentrated on painted and washed.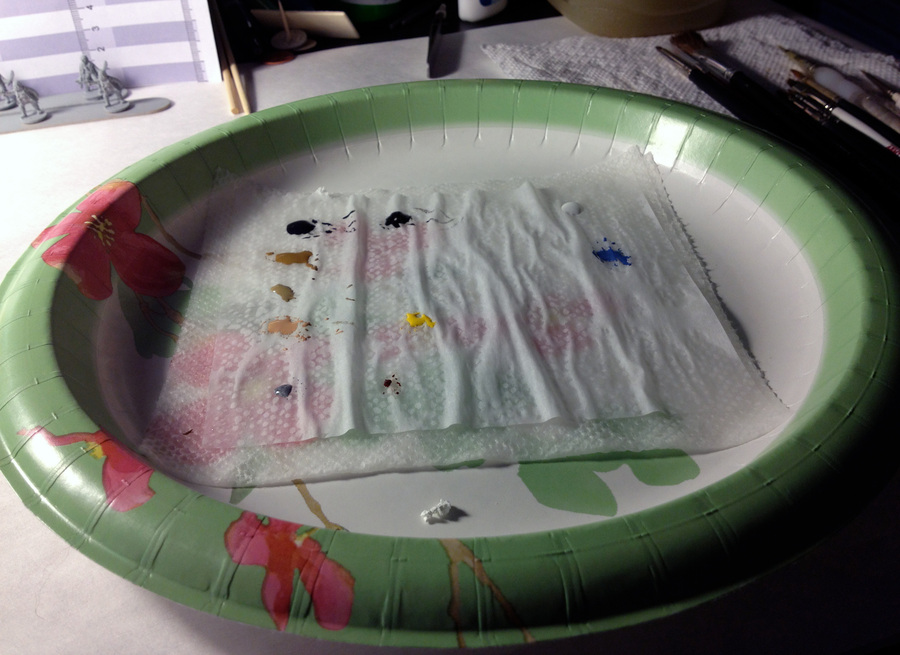 This is the disposable wet palette I use.  A paper towel, soaked in water, with parchment paper over it.  The kind of parchment paper I found in my kitchen, on a roll.  It will keep the paint wet and ready to use for hours.  Thanks to  Rottenlead and his excellent videos for introducing me to the wet palette concept.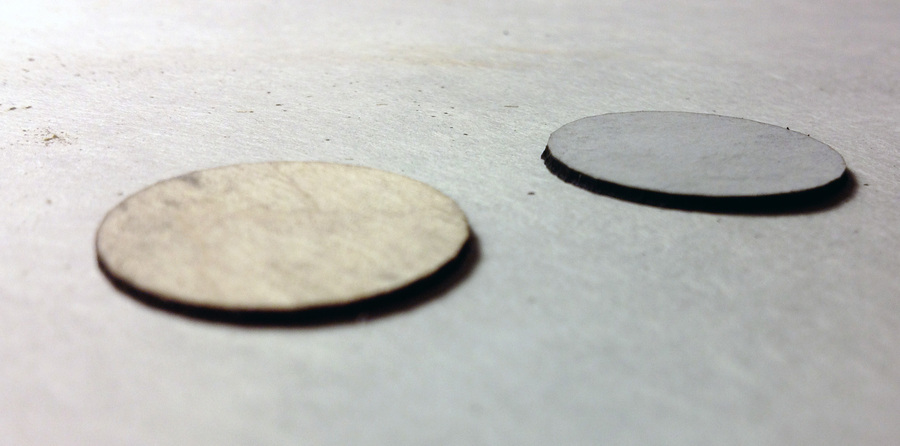 I use 0.8mm plywood bases, 20mm diameter, from Litko.net.  I put their "Heavy Duty Magnetic Base Bottoms" underneath them.  Above is the plywood base only.

Those are the plywood base with the magnetic bottom attached.  Putting the minis on a stick with poster sticky stuff during painting is something else I learned from Rottenlead's videos.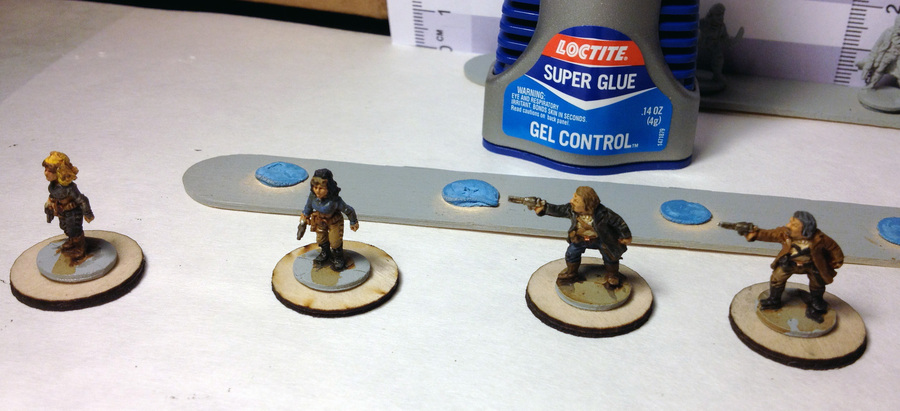 Glued to the base with super glue.  That glue in the picture is the best.  The glue is very thick, and the squeezable sides give great control.  "Gel Control" is a very good description.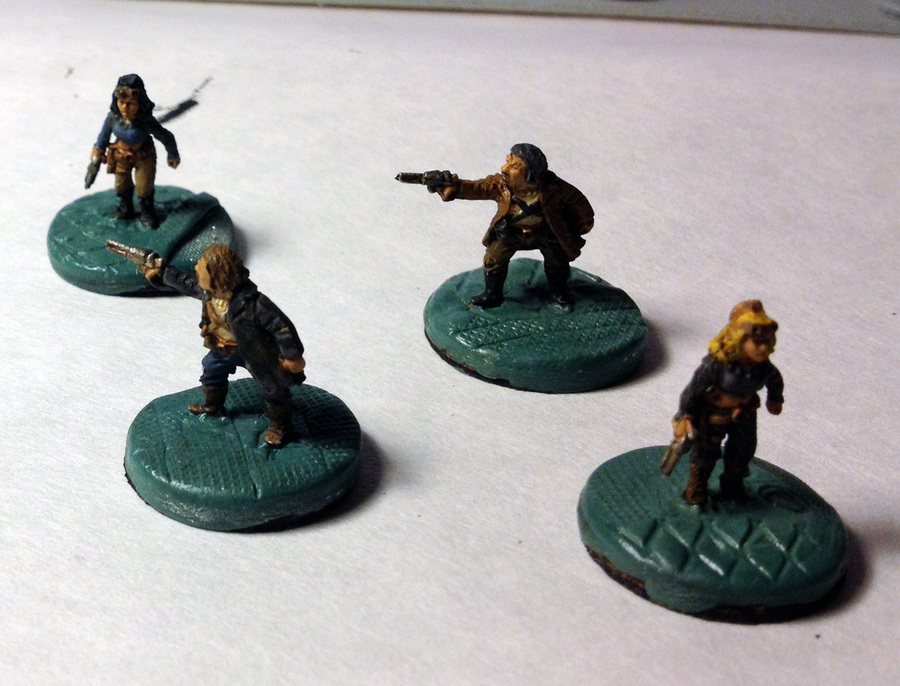 Green Stuff on the base and textured.  I used some of the metal mesh I use for chain link fences (article coming soon), some sewing thread to press straight lines, and the texture from one of my metal files to press the details into the Green Stuff.  You can see on the black haired woman that some metal dust came off my file.  I later used some spare Green Stuff to clean my files to almost new.  :)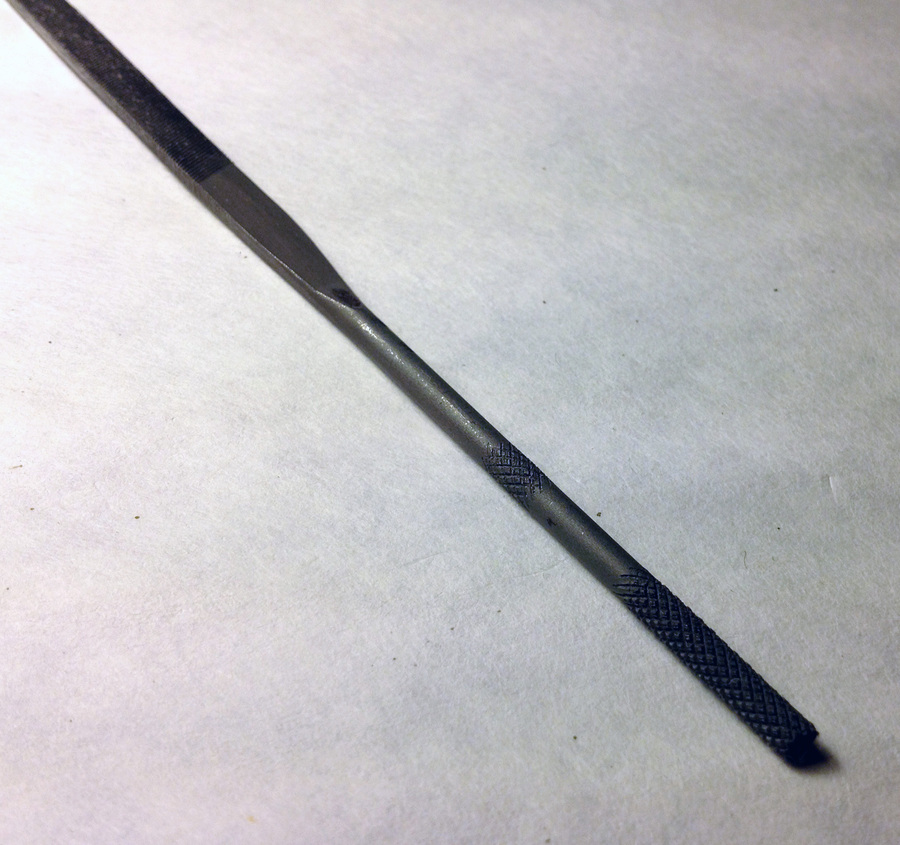 The file.  You can see the textures I used.

The finished bases.  I used Citadel's 'Ardstuff to make them glossy.  Two coats.  My drybrushing of the yellow could have been better.  :(
I think it was a good first try.  I have a ton of ideas on what to do better next time.